Info Courtesy:
Ajim Premji University
Image Courtesy:
Sayan Hazra 
***** What is "Rivers of Life"? Rivers of Life is an initiative of Azim Premji University, the first of a series that aims to depict the splendour of our rivers through the perspectives of students and practitioners, which come together to form a multi-layered narrative of the river. The exhibition will help students understand the lifecycle of a river, civilisations along its source, and the vibrant biodiversity at the interface of water and the earth.
School and college students from different corners of Bengaluru are invited to explore various sections within the photo exhibition as well as interact with other students, activists, researchers, folk artists, academics, and storytellers.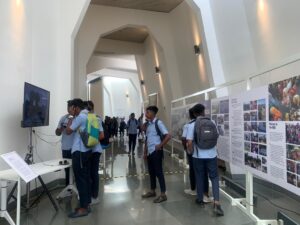 What's On at Rivers of Life? So much! As its name suggests, Rivers of Life is a celebration of all things connected with rivers. We have folk tellers sharing their living associations with rivers, keynote speakers who have worked on rivers for decades, activities for young students to engage experientially, movie festivals on river-based themes, positive stories that challenge the narrative of doom and gloom, and a photo exhibition shared by interns and practitioners that offer a glimpse to the world of rivers.
What led us to the Rivers of Life? Our goal was to create an inclusive narrative exploring one aspect of nature at a time. Because water is so central to life on earth, our first event focuses on stories of rivers. In later events, we will move on to other, equally fascinating aspects of nature and our interactions with them.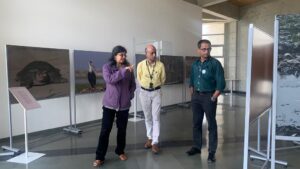 When we begin engaging with nature, we realise that nothing here is a binary. Rivers are never isolated – they are in conjunction with the earth, animals, trees, plants, and humans. The stories of rivers you will see here are stories of the living world's engagement with rivers.
We hope to share information on the current condition of our rivers — the good and bad, of our symbiotic relationship with rivers that is under stress, and talk of rivers as entities in themselves. We ask what makes a river exist. We also discuss rivers across different basis and watersheds, and mountain ranges, and explore the symbiosis between living beings. Finally, we discuss progress and change in light of the challenges emerging from planetary imbalance.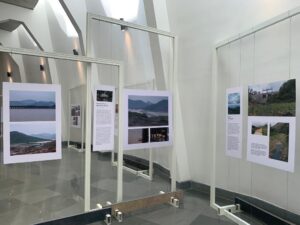 Striving for Sustainability We encourage visitors to take public transport to the exhibition. Most buses from the city that stop at Sarjapur bring you within walking distance of the university campus. However, for the convenience of all visitors, a regular shuttle service will be made available for your commute from Sarjapur police station to the campus and back at regular times. Most supporting materials, such as frames, have been designed in such a manner that they can be reused multiple times. We hope that upcoming programmes will continue to use the frames and post-event assets in future. We have attempted to minimise the design cost, by using locally fabricated material from small and medium businesses. This includes the usage of local alternatives such as Kadapa stone for support to frames. All printed material will be used beyond the exhibition, by shared with partner organisations to use as communication material in their project areas. We have implemented a waste management protocol. Clearly labelled dustbins will be located in the main corridors and open spaces. We are working with schools and colleges to use institution-provided mass transport for their conveyance. *****
Info Courtesy:
Ajim Premji University
Image Courtesy:
Sayan Hazra