The Botanical Survey of India (BSI) has celebrated "Van Mahotsav" at Acharya Jagadish Chandra Bose Indian Botanic Garden, Howrah, on July 14, 2023. Dr. A. A. Mao, Director, Botanical Survey of India, has graced the occasion as Chief Guest and addressed the gathering regarding the importance of ex-situ conservation of plants. Kumari Jetti Tejaswi, a 6-year-old girl from Kendriya Vidyalaya, Fort William, Kolkata, graced the occasion as Guest of Honour and represented "Prakriti" from the Mission LiFE Programme.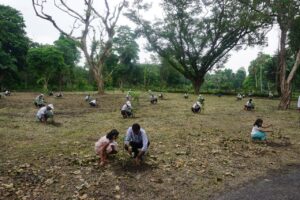 On the special occasion of Van Mahotsav, the officers, officials, and research scholars of the Botanical Survey of India, along with the participants from various institutions, planted 512 saplings belonging to 75 species of endemic and threatened plants, including 75 saplings of Red Sanders (Pterocarpus santalinus L. f.) avenue, to commemorate the 75th Year of Independence Azadi ka Amrit Mahotsav. The plantation drive was organised in Division No. 17 (Central India). On this occasion, a booklet on the AJC Bose Indian Botanic Garden has been released by the dignitaries.
The winners of Sit & Draw and Photography competitions, organized on world environment day 2023 were also awarded on this occasion. Jute bags were given to all the participants to encourage their participation and also to spread awareness regarding use of jute bags over the plastic one to signify the themes of Mission LiFE.
All the regional heads of Kolkata and Howrah offices of Botanical Survey of India namely Dr. Pratibha Gupta, Scientist-F & HoO, Central Botanical Laboratory, Dr. J. Jayanthi, Scientist- E & HoO, In-charge, BSI, Hq., Dr. S.S. Dash, Scientist-E & In-charge, Technical Section, BSI, Hq., Dr. D. K. Agrawala, Scientist-E & In-charge, Publication Section, BSI, Hq., Dr. R. K. Gupta, Scientist-E & HoO, Central National Herbarium and Dr. K. Karthigeyan, Scientist-E & In-charge, EIACP, Dr. Devendra Singh, Scientist- E & HoO, AJCBIBG and all the officers and officials of all regional units of Kolkata were also present in the programme. All the dignitaries emphasised the urgent need of conservation of biodiversity through mass plantation to beat the harmful effect of pollution in every sphere of life to save the Mother Earth.
The programme ended with vote of thanks from Dr. Sitaram Prasad Panda, Curator In-charge, AJCBIBG.